Cricket My Way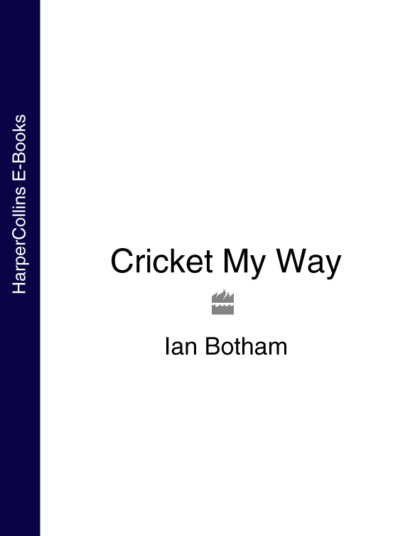 Cricket My Way
текст
Оценить:
0

Early in an innings, I might keep myself geed up for a while, but I have to revert to normal pretty quickly, otherwise I find my mind becomes cluttered with things which are of no use to me at all.

Some batsmen are great chatters, and it is always important when batting for a player to take into account the make-up of his partner. Needless to say, I love to chat in the middle with the other batsman, even if it is not too much about the cricket – unless I think he is struggling and I can help him with any advice or encouragement.

It is surprising how often a batsman can lose his rhythm in the middle of an innings, and it is then his partner can help him with a quiet word, and perhaps by organizing the strike, if a particular bowler is suddenly looking dangerous.

Geoff Boycott, England v India, Second Test, Lord's, July 1979. Concentration personified; still head with eyes on the ball.

Viv and I batted dozens of times together for Somerset, but I can hardly remember a conversation about the bowlers in all that time.

I remember one chat with Mike Gatting at The Oval when we were both just blocking for over after over against Pakistan in 1987. After yet another maiden, I met him in the middle of the pitch and said: 'Am I frightfully boring to watch?' He just cracked up, but it helped to break the tension of the situation, and I knew a laugh would not break his concentration.

A lot of players aim to bat for a session at a time, but again, while I accept that works for them, once I get time and lack of motion of that sort in my mind, it would be bound to affect the way I play, so not only do I rarely look at the clock, I am not one of those players who checks the scoreboard after every run, to see they have not been diddled.

Sometimes I look up after a while, and I am genuinely surprised to see what has happened, but I play in the way I do because various targets which fill other players' minds, never bother me.

The only time I will keep a careful regular check is towards the end of a one-day match, or in a tight finish to a three-day game, where the number of overs left is always so important.

Find out by trial and error what your mental limits are, and then evolve your own concentration key. Mine is to switch on and off, otherwise I quickly become bored and tired. Also to keep the blinkers on does not make me a better player, and I am a firm believer in not letting anything worry me more than it has to.

RUNNING BETWEEN THE WICKETS AND CALLING

There are enough ways of getting out in cricket, without being run out, and yet time and time again, the pressure of trying to sustain a victory charge produces the sort of mix-up when seasoned pros don't know whether to laugh or cry.

When most run-outs are analysed, and the blame apportioned – although there is often more disagreement about that than in deciding who was in the wrong in a car accident – it is surprising how few are unavoidable. By that I mean when the dismissal came about as a result of a magnificent piece of fielding, when it is only justice to give credit to the fielder rather than criticize the batsmen.

The other common denominator is that remarkably few run-outs happen because someone is slow moving between the wickets, rather than slow thinking.

The most important part of safe running is calling, and the understanding of that call. That in turn means knowing your partner, so that you try to anticipate everything he does. When I first opened in the 1987 Sunday League with Tim Curtis, we could both have been run out at least twice – simply because we did not know each other's habits. We soon learned, and after a while even a look and a nod was enough without any real necessity to call.

So as a general rule, get to know the batsman who, for example, often takes a couple of steps down the pitch after most front foot strokes, even though he is not looking for a run. Find out if any of your colleagues are nervous starters, and are looking at the start of their innings to get off the mark. That does not bother me because it is no big deal if I'm out for 10 or 0. My sights are set much higher than that, and if I play a big innings, I'm looking to trade more in fours and sixes than quick singles – unless of course I want to organize the strike.

But I'm well aware that my partner might be different, so I take that into account when I'm in the role of non-striker.

As long as the calling is definite, I don't think it is necessary to stick to the textbook rules which decree that the striker calls in front of the wicket and the non-striker is in charge when the ball goes behind the wicket.

If for any reason I don't fancy something I've been called for, I'll say 'No' as quickly as possible before my partner is too committed.

England v Australia, Second Test, Lord's, June 1985. David Gower brings off a brilliant reflex piece of fielding to run out Kepler Wessels.

Often when I'm on strike and I have hit one into the covers and called for a run, I have forgotten that there is danger because of a left-handed thrower and I then get sent back. That is fine – as long as it is done immediately, because the real trouble starts when the calling is either late or indecisive. This is particularly prevalent when the ball is played square of the wicket, because the two batsmen have a completely different angle of view of how close to the fielder's throwing hand the ball is.

So be prepared to share the calling responsibility, and don't shelter behind the official party line that it must always be the striker's call in front of the wicket.

Also remember to keep in mind that every side has at least one fielder who is a bit special. I always mentally slot him into a 'no go' area unless it is a really safe run. Into that category come people like Derek Randall, David Gower and Roger Harper for instance who, despite their track records, can still bring off the unexpected run-out which sends the victim on his way shaking his head and feeling he has just fallen for the latest three-card trick.

Take Harper's great run-out of Gooch in the M.C.C. v. Rest of the World match in 1987 at Lord's. It was breathtaking, and yet despite Graham knowing all about the man he still got done by a couple of yards, although he never went further than five yards out of his crease.

I'm told that the great South African cover point, Colin Bland, nailed Kenny Barrington and Jim Parks in a Lord's Test, despite the whole England side deciding they would not run to him in the covers or at mid wicket.

Calling and running depend so much on understanding your partner. My former Somerset team mates Brian Rose and Peter Denning hardly ever called after their first few innings together. A glance at each other would do, and they became just about the best pair of runners together I have ever seen. This was not just because they were pretty rapid between the wickets, but also because they both spotted a run so quickly. They would run sides ragged – the fielders would close in and suddenly, bang – four runs.

We played a one-day game at Harrogate and they actually hit something like 70 off the first nine overs with only half a dozen boundaries.

But although club cricketers and youngsters cannot expect to develop that sort of telepathic understanding because they play cricket intermittently and not on a day-to-day basis, as long as commonsense is applied, it should not take too long to work up a reasonable understanding.

Always take into account the speed of your partner. If he is a bit ponderous into his stride, allow for it, and then try to ensure to begin with that you are running to the danger end.

Another thing to consider is the ability of different fielders to get rid of the ball quickly. Find out those who can throw on the turn, and those who cannot. For example, if I hit one a yard either side of Chris Broad, I will take him on, but I wouldn't Tim Robinson. Chris takes just that split second longer to gather the ball and have a shy.

Although I wouldn't risk much to David Gower when he is running on to the ball because of his uncanny underarm accuracy, once he is chasing after it, I'd chance an extra run as he cannot throw quickly or hard on the turn because of shoulder trouble.

It is that sort of attention to detail which solves so many problems before they arise.

3 THE CLASSIC SHOTS (#ulink_ced257fe-3fc1-5be0-a70e-8f71a869c0fd)

DRIVING

The purists have always said that the real beauty of batting is best expressed by off-side play, and as that is my favourite area, I feel qualified to offer advice about how best to become effective and fluent there – particularly off the front foot.

I know that the orthodox coaching instruction insists that the bat and front foot must be together in playing a flowing off drive, but I don't go along with that. The real destructive cover drives are nearly always played with the bat a bit away from the front leg, in order to gain extra leverage, which in turn helps with power and placing.

I am not suggesting that the front foot should be miles away from the hitting area, because that is bound to produce a hit or miss technique, and all successful sportsmen, including good batsmen, have a technique which is repetitive because it has been tried, tested and proven over a long period. But I have seen plenty of well-coached young players stroke a nice copybook cover drive straight to a fielder, simply because they have concentrated so hard on getting the foot right to the pitch of the ball, they can't hit it very hard, and in any case they can only hit it in one place.

England v India, Third Test at The Oval, July 1982; my only Test double hundred. The left shoulder led my front foot into the perfect cover drive. My weight is going forward and the head is still. I'm pleased with this one!

England v West Indies, Third Test at Kensington Oval, Barbados, March 1981. A rare luxury of playing spin. The front leg has gone towards midoff, although I have played the ball into the covers. The gap between bat and pad is not normally advisable.

The really hard hits come from a little bit of room being created in which a full wide arc of a good back-lift can be fully used. The left shoulder for the right-hander, should be the leading influence, not the foot. Anyone who queries that golden rule should just realize that you can put the front foot where you like, but the shoulder need not follow. But if the first leading movement is with that shoulder, the foot must follow unless you fall over.

In forward play, always try to lead with the shoulder, and then the top hand will stay in control of the stroke much more easily.

The other key to a successful off drive is to ensure that you have a full and high follow through. Too many players forget about this, and as a result start decelerating the bat in the hitting area.

Golf provides yet another valid comparison here because the longest hitters are those whose extension 'through the ball' is the greatest.

Batsmen should never ignore the importance of finishing the stroke off properly, which means concentrating hard after contact has been made. That way it will be easier to place your shot, and of course to hit it harder.

Selection of the right ball to hit confuses a lot of batsmen, and this is why it is advisable to take a few minutes at the start of an innings to assess the conditions. Of particular importance is the pace and bounce of the pitch. On a quicker pitch, the off drive can be played to a shorter delivery than normal, and conversely on a slow, low pitch, the ball must be that much further up.

England v Pakistan, First Test at Old Trafford, June 1987. I have gone for the big one, with the top hand totally in control. It kept the blade open until impact, which increased my margin of error had the ball moved away at the last moment.

The wider the ball, the more difficult it is to control the stroke. And naturally, the wider the ball, the fuller in length it needs to be to cover it properly.

The pace of the bowler also matters a lot, as well as what he is trying to do. Off spinners and inswing bowlers do not give you the same amount of room as the slow left arm bowler or the away swinger.

If the ball is moving or turning, then a batsman needs to take extra care with an off drive, because the swing or spin usually takes effect in the last few feet of delivery.

When I try to off drive an inswinger, I concentrate on getting my front leg a bit further over, so that I will not be 'gated'; but when I fancy a dip at an away swinger, I create a bit of room and let the top hand lead me into a full-blooded hit. The reason for this is that if I happen to get an edge, it flies harder and further, and more often than not I get away with it.