Cricket My Way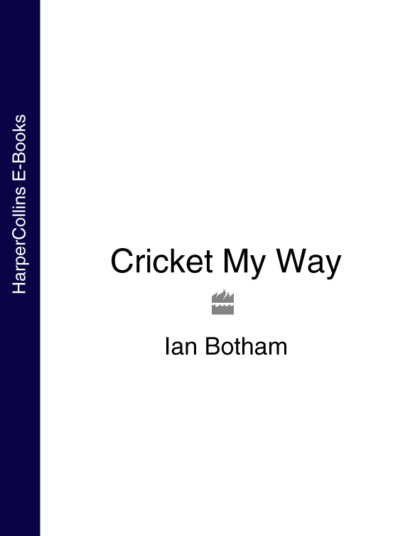 Cricket My Way
текст
Оценить:
0

MORE NORMAL APPROACHES

So let me concentrate on more normal innings, and whether you play like me or Geoff Boycott, there are certain common factors to be taken into account.

Let me deal firstly with my own approach. It never bothers me how long I stay on nought after I have come in to bat. Some batsmen are looking to get off the mark straight away with a mid-wicket push for a single. I would rather concentrate for a few deliveries at least, to play 'in the V' as we call it – that is the area between mid on and mid off.

Viv Richards is one who loves to slide his foot forward and push a run or two through his favourite mid-wicket area, but you cannot take him as an example of too much because he is a genius. I could not do what he does and he won't try too much of what I do. We both play to our respective strengths, and that is what coaches should encourage.

When I start batting, the bowler is in between me and what I want to do, so I try to work out the best way of dominating him. Some bowlers cannot take this. They worry, try to change their natural method, and the argument is settled after a few deliveries.

Other more resilient cricketers are tougher nuts to crack. John Emburey is as good an example of this as I can quote, because he has such an unshakable faith in his own ability and method of bowling that he never gets rattled if he gets smashed around. Not that that happens too often, which is why his captains pay him the supreme compliment of entrusting the closing overs of a one-day match to him.

Somehow, I want to introduce my natural aggression into proceedings as soon possible. I keep coming back to aggression, because it is such an integral part of my game and approach, but I recognize that it takes different forms with different players. For instance, many people regarded Geoff Boycott as a run machine who ground his runs out, rather than give rein to a lot of the flair I know he had. Flair which only occasionally in one-day cricket used to be unwrapped, but I knew was always there, having travelled the world with him.

I have watched him in the nets countless times, where he has played all the shots, only to go in and revert to type. I used to think that was illogical, but he would argue it was done to get rid of his aggression before he started his innings, because he was then more likely to produce the sort of big innings needed in Test cricket.

I thought that a wrong approach, but it made him such a great run scorer, who can argue?

Whatever I have been accused of, when on the surface I have got out to a silly, irresponsible shot, nobody can ever say that I have been short of self-belief. I know that on my day I can destroy an attack, and turn a match right round in a short space of time. I think I am helped by batting at five or six, because the match situation has started to develop by then, and much of what I do can be viewed in that context, compared with those top order players who try to shape events.

They shape, and sometimes I try to change – there is the big difference. But I can only change things because I believe in myself, whereas there are quite a few cricketers who sell themselves short, because they do not fully believe in themselves.

GOING FOR IT?

'It is only on rare occasions that I feel free to come in and go for it from the first ball. Edgbaston in 1985 against Australia was one of those, and I will never forget my first ball six off Craig McDermott.

'At 572 for 4, we were not exactly struggling, and Mike Gatting hardly needed to tell me to get on with it. But that situation was just as much a one-off as the one at Headingley four years earlier when we were 133 for 7 in the second innings, still 94 runs behind Australia. '

It's all a matter of courage and self-belief, with a touch of arrogance thrown in. My aggression does not come from just going in to wallop the bowling. Look back and see how many of my big scores have come when the side has been in trouble, and my initial approach had to be different.

Unless I receive some rubbish bowling to start with, I play normally for a bit longer than usual before I set out to destroy. Then I sort out their most dangerous bowler, and attack him sensibly to see if I can get him off. In those circumstances, a captain often panics and whips the bowler off, which is wrong on two counts. He just might get me out, and anyway he is still posing the same threat to my partners.

Mike Gatting did well in the 1987 World Cup on at least two occasions in this regard. Both times Eddie Hemmings was the bowler, and in matches against West Indies and India, Viv Richards and Kapil Dev had smashed him for boundaries. But Gatting kept faith, and so did Eddie, and he got both men out with well-flighted deliveries, when England were facing defeat in matches which they went on unexpectedly to win.

Such a big part of the game is who can dominate who, and no batsmen should ever settle for just going through the motions when they bat. Things rarely happen – they have to be made to, with so much depending on the match situation. If the runs are not coming, don't get bogged down – push and sprint a few singles. More likely than not, the fielders will come in and then there is a better chance of hitting a four.

A POSITIVE ATTITUDE

What seems to inhibit a lot of players is if their first attacking stroke costs them their wicket. That never bothers me, because I am never afraid of the consequences if things go wrong. Fear has no part to play in my game. I've seen too many players start off in a team, either at county or Test level, with the sole thought of surviving to stay in the side.

Attacking the bowling like this can unsettle the opposition and panic their captain into rash decisions. If it causes good bowlers to be taken off it can benefit others in your team as well as yourself.

My attitude is different. I go out there and tell myself, 'I've got here because of the way I play – so why change it?'

Another thing, once some batsmen get on top and start the roller coaster going, it is just as though they are afraid of how fast they might go, and they jump off. I remember sitting with Viv on the balcony at Taunton a few years ago, watching our Somerset team's approach to a fairly easy Sunday League victory target of around four runs per over. Once a four had been hit, even if the same delivery came along next ball, a different stroke was played. The attitude was 'We've got our four this over, why take chances?'

A DIFFICULT INNINGS

'Occasionally, circumstances call for the elimination of any risk, and although I find this sort of innings the hardest of all to play, I still bring all my aggression to bear, as the best way of disciplining myself Like, for example, my innings on the last day of the Oval Test against Pakistan in 1987, when we were totally up against it, and I knew I had to stay there with Mike Gatting all day. Runs did not matter – it was just a matter of survival against their attack under the pressure of having fielders all round the bat all day, after they got that massive first innings total of 708.

'The only hope I had was to wind myself up, so that I could impose myself on them, even though it would be in a different way from usual. I said to myself: "Right, cut out all the chances of getting out, and don't play a shot."

'It was one of the most untypical innings of my life, but I actually enjoyed it more and more as the day wore on because the Pakistan side was getting increasingly frustrated with me. I concentrated on leaving alone as many balls as possible, and those I had to play, I did with bat and pad locked together – and it worked like a charm.

'We saved the game, thanks to that 150 from Mike at the other end, which shows what can be done with the right approach. In its own way I am just as proud of that effort – my slowest ever Test 50 – as I am of some of the blockbusters.'

That is nonsense. Firstly it breaks your own batting rhythm; and secondly it restores some of the bowler's confidence. Not to mention helping to ruin your own side's momentum. You only have to notice how many one-day matches change right around when a side suddenly backs off when they are on top. Too many batsmen think that if they try too many strokes and get out, they will be accused of a lack of responsibility.

Part of my 90 for Somerset v Middlesex, Nat West semi-final, August 1983, when I played out a last-over maiden, when the scores were level, to win the match.

That is negative thinking, and you'll never win anything that way. I try to keep all my 'vibes' positive, and if I can finish the match well within the prescribed number of overs, that to me is the best way of staying on top once you have the edge.

An example of that was our Sunday League match at Hereford in 1987 against Surrey, when Worcestershire won the title. Tim Curtis and I went in to bat on the slowest, lowest pitch of the season, after Surrey had managed 154, with no fewer than 97 singles. That illustrates just how difficult it was to get the ball away, and I know the Surrey lads fancied their chances if they could contain us early on.

They did that, because although we put on 130, the 50 did not come up until the 15th over. Then I wound up at the slow bowlers and managed a couple of sixes, so now we were well on top and apparently cruising. There were plenty of overs left, and all ten wickets were intact, but I knew that if we just pushed around, things could so easily go wrong if we lost a couple of wickets, because nobody in the match had managed to come in and smash it around right from the start. So I kept going, but even when I got out for 80, Graeme Hick came in with the same sort of positive approach. We wanted 25 off 16 overs, but he hammered 19 in no time, and finished things off with a six to win us the match by nine wickets with 12.2 overs to spare.

We might well have won the match the other way, but that is never how I look at things.

Once I have pressed the accelerator, and I knock a few of the opposition over, I want full throttle to wipe them all out. If a side ever gets back into a match I have started to rush them out of, it is never because I have eased down in order to avoid unnecessary risks.

I am not trying to suggest that everyone should bat the way I do, because I know they couldn't. Some cricketers are not as strong as me. Neither can they hit as straight, nor as hard. But they have their own strengths and they must play to them, spurred on by the right sort of positive attitude.

Graeme Hick, my partner in some classic innings, playing his favourite square drive off the front foot.

I am always on to my team mates about developing and sustaining a positive attitude. From the beginning of every match, I am trying to win; whereas some captains go the other way and aim firstly to set up a position from where they cannot lose, before they turn their attention to winning.

Sometimes in Test cricket that has to be the way to play, but five-day Test cricket is a unique form of the game, and not too many valid tactical comparisons can be made with other formats. Certainly I can think of very few three or four day championship matches where that sort of approach accomplishes anything. Fewer matches are won in the long run, and also the entertainment factor is ignored.

It is all very well county pros pleading a lack of understanding from spectators of the finer points of the game, and I know that it is mostly members and not the paying public who turn up in the week. But without those members, even in these days of wide sponsorship, the game would suffer a lot. Their entertainment must always be considered. Although the three-day crowds at New Road in the first season Graham Dilley and I had with Worcestershire in 1987 were nothing special, there was a huge increase in the membership, and I hope they agree we all gave them good value.

I know how much importance I attach to being entertained whenever I watch sport – be it golf, or football, or even cricket. That is one of the reasons why I always try to give value to the watchers.

There are so many different ways of building an innings. Geoff Boycott always aimed at ten runs a time, and in the first place never widened his horizon beyond that. I could not do that, and usually play it as I feel. For me, figure targets are bad because they inhibit me, and anyway they spoil my concentration.

A GOOD EXAMPLE

'Just look at someone like Allan Lamb. He is my sort of cricketer because, although he has his limitations, he never dodges a situation, or ducks a challenge. In one-day cricket, he is completely different from me. He works the ball about brilliantly, taking full advantage of the lack of close fielders, and the crowd are invariably taken by surprise when they look at the scoreboard, and see how many he has chalked up without doing anything spectacular.

'Everyone remembers the 18 he took off Bruce Reid in Sydney in a World Series match in 1986. He pulled off the most astonishing win for us; but although he finished with an unbeaten 51 at a personal scoring rate of over a run per ball, he did not hit his first boundary until that final over.'

CONCENTRATION

Successful batting depends so much on concentration, and I help maintain mine by switching on and off between the action. Quite often, you'll see me laughing and joking and apparently fooling around when I am batting. But as soon as the bowler runs in, I block everything and everyone out except how I am going to play that ball.

Some players cannot do that, because once they switch off, they have problems in finding the 'on' switch quickly enough. Chris Tavaré is an example of that. He keeps himself wound up by going for a walk after most deliveries. Off he'll go around the short leg area, just to think of the ball he has just faced, and to work out what he will try to do against the next one.

I get bored doing that, and so I deliberately think of all sorts of things while the bowler is going back to his mark.

Geoff Boycott is another who wound himself up tighter and tighter, and his concentration never wavered. I can't do that. He could, and there is another instance of the fascination of cricket which is played in so many different ways by different cricketers.